Are you suffering from bad teeth? Are you missing several teeth? Do you want to speak and chew well? Are you afraid of the cost? The solution is to do a complete mouth dental implant.
Complete mouth dental implants cost is very affordable in Turkey. So, you can travel to it to treat your teeth and spend a lovely trip with a competitive tourism package.
Keep on reading to find more about complete mouth dental implants!
What are complete mouth dental implants?
If a person has lost the majority of their teeth, they are used to perform a complete mouth restoration. They are made up of numerous dental implants that are embedded with the jawbone and a set of outer teeth that are supported by the implants.
Complete mouth dental implants cost is really competitive in Turkey because it is well-known for its cost-effective prices. So, you can save a lot.
We are going to discuss in more detail the different types of full mouth dental implants.
What are the different types of full mouth dental implants?
There are several types of full mouth dental implants as follows:
All-on-4 full dental implants
They are made up of four titanium implant posts strategically spaced along the dental arch, embedded in the jawbone and attached to a denture plate.
All-on-six dental implants
All-on-six dental implant procedure uses six dental implants to create a permanent restoration. A bridge or over-denture can be anchored by using them. Six implants are placed in the bone of the mandible or maxilla to fix the artificial teeth permanently.
Zirconia bridges are made of zirconia, a durable and safe dental ceramic. It has a transparent appearance that makes it easy to match with other teeth. You do not need to be concerned about the zirconia bridge irritating your mouth because the body does not react negatively to it or reject it.
Traditional removable prosthetics
Multiple missing or severely damaged teeth can be replaced with removable prosthetics, also known as dentures. Removable dentures can be removed at any time, in contrast to some dental appliances that are anchored in the mouth permanently by an implant or adjacent teeth.
When a person has lost the majority of their teeth, they are used to perform a full mouth restoration. They are made up of several dental implants that are placed to the jawbone and a set of outer teeth supported by the implants. You will find a complete mouth dental implants cost on your budget in Turkey.
Factors Affecting One Day Full Mouth Dental Implants Cost
Complete mouth dental implant procedure
Initially, the dentist performs x-ray to show the strength of the bone. Then, the required number of implants are inserted as titanium screws that serve as the roots of new teeth.
After that, an abutment and the new tooth's crown are put in place after the jawbone and gums have healed in order to give a permanent new tooth that is just as stable as a natural tooth.
Finally, the teeth stabilize and the implants are fixed during the first six months after the implants. It might take several visits before the implants are completely healed.
But each procedure has pros and cons, let's see next in more detail!
What are the benefits & risks of complete mouth dental implants?
Complete mouth dental implants are a great option for those who are missing their teeth. Once you decide to perform it and desire to do it on your budget, you can visit Turkey because complete mouth dental implants cost is cheap in it.
Look into the following benefits:
Implants can improve your appearance
They are long-lasting
They make you eat and speak easily
They are required less maintenance
They prevent the loss of the bone
They enhance the oral health
Implants also have some risks as the following:
The implant site being infected
Rejection of the implant may occur
Damage or injury to the nearby blood vessels, teeth, or jaw
Incorrect placement in the upper jaw can cause sinus issues
Hence, do complete mouth implants fit seniors? Look into the next point to know!
Complete Smile with Full Mouth Dental Implants for Seniors
Complete mouth dental implants for seniors
They may be a fantastic solution for dealing with aging-related tooth loss. They are a reliable and secure replacement for dentures and offer the independence and comfort of natural teeth. As well as, they provide the comfort and appearance of the natural teeth.
Complete mouth dental implants cost for seniors is so cheap in Turkey. Call us on +90 544 909 49 99 for any further information about price. We provide very incredible packages.
Hence, full mouth implant treatment has some expectations. Let us discuss next!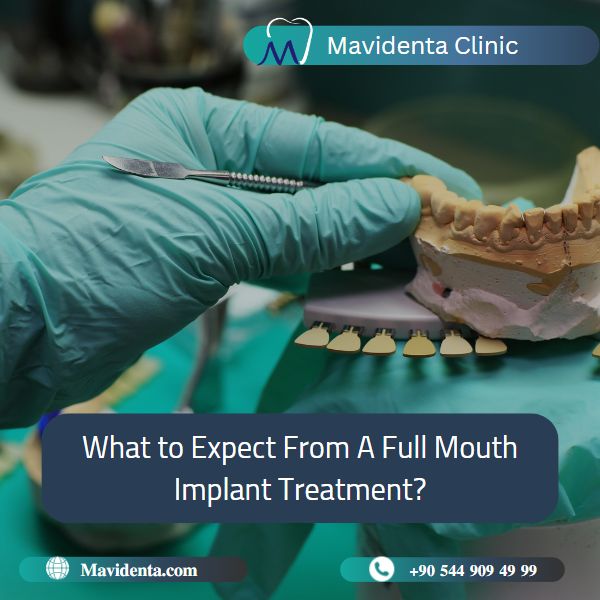 What to expect from a full mouth implant treatment?
In any dental procedure, you might experience some discomfort while the implant is healing in any or all stages of the procedure. Normal and expected side effects include facial and gum swelling, slight bruising, pain at the implant location, and little bleeding.
Now, let us know if the full mouth implants are permanent or not!
How long do whole mouth implants last?
Dental implants are meant to last a lifetime. This is so that they can Osseo integrate, or become bonded with the surrounding bone tissue, directly with the jawbone.
While osseointegration is done, the implant's material and the surrounding bone will have fused together. As a result, the implant can act as a substitute for a tooth root, creating a strong base for a prosthetic tooth.
Whole mouth implants are permanent but the crown that is attached to the implant may require to be replaced because of normal wear and tear. In general, it may be required for replacement from 15 to 20 years.
But there are some factors that determine the period of replacement include eating habits, oral hygiene practices, and the regular checkups at your dental clinic.
You will also find complete mouth dental implants cost very low in Turkey compared to your home or other destinations.
Cheapest Place To Get Full Mouth Dental Implants
How painful are full mouth dental implants?
Since general anesthesia or local anesthesia are used to completely numb the mouth, the procedure itself is not painful. Once the numbness subsides following dental implant surgery, the patient may experience some mild pain.
Rarely, a small number of patients feel extremely uncomfortable for a long time after surgery. This discomfort could be caused by an infection or an implant that isn't properly fitted.
The recovery is typically not nearly as painful as people had anticipated.
Do you think that implants are a good option? Let's see!
Are full mouth dental implants a good idea?
Certainly. The success rate of the implants reached 98%. Therefore, dental implants are a perfect option. They are very effective treatment.
Indeed, the effort and money spent on dental implants will be worthwhile in the end. You can save up to 70% or more if you visit Turkey for your dental care. Complete mouth dental implants cost is really low in Turkey.
Is it safe to have dental implants in Turkey?
Complete mouth dental implants cost
The cost of the full mouth implant is cost-effective in some countries such as Turkey. Turkey is characterized by its high-quality services, professional dentists, and affordable prices.
There are many factors that affect the cost including the used material, the selected brand, and the location of the dental clinic. The case of the patient also affects the cost. Every patient's case is different from others as the condition of the mouth and teeth differs.
We highly recommend our clinic, Mavidenta. Our clinic is the guarantee certificate provided dental Clinic in Istanbul. We provide special prices for our patients to fit their budget.
For any inquiry about prices, do not hesitate to contact us. We are glad to assist you!
To sum up, full mouth dental implants are the right and comfortable option if you miss many teeth. They act like your natural teeth. They are a permanent and long-lasting solution. Finally, this option enables you to restore your confidence and smile.
You can also save more money if you head to Turkey to perform this procedure. Turkey provides high-quality service and low cost.
FAQ
How Can I Look After My Dental Implants?
You should take care of your oral health.
Does having gum disease (periodontal disease) affect my ability to get implants?
It depends on the severity of your infection but you can get a treatment then perform the implant.
Am I a Suitable Candidate for Implants?
You are a good candidate if you are not suffering from any chronic or dental diseases.