The world of dentistry is rapidly advancing, and dental crowns are now more accessible and affordable than ever before. Turkey is one of the leading countries in the field of dentistry, offering top-notch dental services at reasonable prices. If you are in need of a dental crown, this article will guide you on what to expect and how to choose the best dentist in Turkey for crowns. But first let me tell you what Dental crowns are.
What is a Dental Crown?
A dental crown is a cap that fits over a damaged or decayed tooth to restore its shape, size, strength, and appearance. Sometimes the damage to the teeth may be too massive to be fixed by filing only, so we use dental crowns. 
Crowns can be made of various materials, including porcelain, ceramic, zirconia, and metal alloys. so,dental crowns help to protect the tooth and restore its shape.
Why would I need a dental crown?
 There are too many reasons that necessitate that you need to get a dental crown, these reasons include:
A previously cracked tooth whose parts need to be held together.

A weak tooth with a big decay that has been removed and filled but is not strong enough and needs to be supported.

If you have a tooth with an abnormal shape you can cover it with a properly shaped crown. 

A discolored tooth that looks so ugly with too much stain and thus prevents you from smiling with confidence.

To cover the root canal-treated tooth. 
Types of dental crowns:
There are too many types of dental crowns each one of them has advantages and disadvantages:
Porcelain crowns have the best aesthetics but the worst mechanical properties. 

Metal crowns are so hard with high strength but the worst shape in addition to conducting heat and electricity to the pulp of the tooth which causes pain.

Porcelain fused to metal which are crowns that mix between the previous two types




This type of dental crown is composed of a metal core with high strength and a porcelain cover to give the crown its shape and insulate the pulp from the oral media.




From an esthetical perspective, it's not the best option, as the transparent porcelain is affected by the underlying color of the metal. 

Zirconia crowns have the best strength in white color but it is opaque so they are recommended for the posterior teeth.

Emax crowns are the best choice for dental crowns as they have the best esthetics after the porcelain crowns and suitable strength.
We have the best dentist in turkey for crowns in Mavidenta Dental Clinics.
Read More About : Porcelain Veneers Turkey Price
Things You Should Know Before Your Dental Crown Treatment in Turkey:
Dental crown treatments in Turkey usually take two to three appointments to complete.

The procedure requires local anesthesia, so you will be numb during the treatment.

Your dentist will take X-rays, impressions, and molds of your teeth to ensure a perfect fit.

Before your treatment, you should inform your dentist of any medical conditions or allergies you may have.

you have to choose the best dentist in turkey for crowns. You can find him at Mavidenta dental clinic . You can get a free consultation if you contact us now .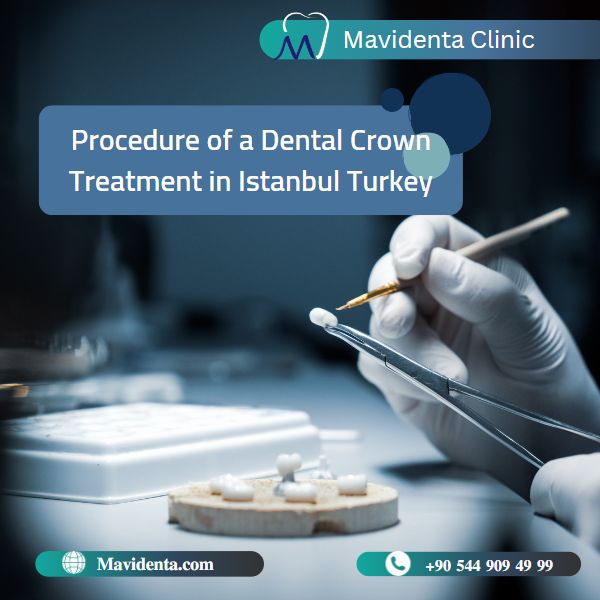 The procedure of a Dental Crown Treatment in Istanbul, Turkey
The procedures of dental crown treatment in Turkey are not so complicated
These procedures may take about two visits:
In the first visit, an examination is done, an x-ray is taken and the dentist evaluates the case well




If there is a need for any treatment before the procedure it's done at this stage




By some dental techniques, a temporary crown is fabricated




After that, your dentist starts to prepare the tooth by reshaping it then he takes a negative replica of your teeth using a special paste which is called an impression




Then your dentist wi cement the temporary crown to be used until the second visit




This impression is sent to the lab to cast it into a positive replica and by some processes, they fabricate the dental crown. 

On the second visit, the temporary crown is removed,Then the permanent crown is checked first: color matching, its adaptability on the tooth, and comfort.




Then the permanent cement is applied and the permanent crown is cemented. Some of the dental clinics in Turkey have their lab within their clinic so you may have your dental crown on the same day.
Learn  About How Much Does a Full Set Of Dental Implants Cost In Turkey
What type of dentist is best for crowns?
When deciding on the best dentist for crowns in Turkey, it is important to know The dental field consists of too many specialties, and the best dentist for crowns is the prosthodontist. Finding a qualified and experienced dentist with a good reputation is also key. You can find the best dentist in Turkey for crowns at Mavidenta Dental Clinic. 
Mavidenta offers high-quality materials such as E-Max crowns, porcelain crowns, ceramic crowns, and disilicate ceramic crowns. A reputable dentist will ensure that you get the best materials available at a reasonable price.
Why get dental crowns in Turkey?
Turkey is known as one of the best dental tourism destinations. 

Dentists and dental clinics in Turkey give their patients the highest quality treatment.

You can also get all of the dental treatments at the most affordable prices in the whole of Europe. 

Here you can find the best dentist in turkey for crowns.

Furthermore, all dental clinics are outfitted with cutting-edge technology. 
How long should I stay in Turkey for crowns?
If you need to know how long you need to stay in Turkey to get your dental crown you will need at least two visits
You may need to stay in Turkey for at least one week 
Your dentist will give you a temporary crown between the two visits 
How much does a crown cost in Turkey?
In the UK you  will find it too expensive to get a dental crown. But in Turkey, the costs of dental crowns are not sky-high, and the cost is determined according to the type of the crown. 
Do you know how much the difference in price is between dental crowns on average in Turkey and the UK?
The porcelain crown in Turkey costs about 100-250 $ while in the UK  costs about 550-1100$

Porcelain fused to metal crown in Turkey costs about 80-130$, in the UK it costs 430-1100$

Zirconia crowns and E-max crowns in Turkey cost about 130-250$, while their cost in the UK is about 800-1250$
What About Cost Of Implants In Turkey?
How To choose the best dentist in turkey for crowns?
Choosing the best dentist in Turkey for crowns can be a daunting task, but with Mavidenta Dental Clinic, it can be a much more straightforward process. 
When selecting a dentist for crowns in Turkey, it is important to consider the quality of the clinic and its reputation.
 Look for clinics with experienced and qualified dentists who use the latest technology and materials such as zirconium porcelain crowns.

 Also, check reviews from previous patients and ask questions about their experience with the clinic. 

Prices can also vary widely, so do your homework and compare prices before making your final decision. 

Lastly, remember to always put your comfort level first when selecting a dentist and make sure to ask about post-procedure instructions from your chosen dentist.
How to Choose : Best Dental Implant Clinic In Istanbul
How long do Turkey dental crowns last?
On average, the prosthetic dental crown can last for about 15 years, but the lifespan of the dental crowns is controlled by some factors, such as:
Oral hygiene status.

Some habits such as bruxism or biting nails. 

type of material used to fabricate the crown. 
Full set of crowns turkey
According to the type of dental crowns chosen, the price of a full set of crowns Turkey is determined
 You need to communicate with the dental clinic, they may offer you a price package for the full set of crowns in Turkey
Here in Mavidenta you wi find the best offers and the most flexible method of payment
learn more : Dental Centre Turkey Payment Plan
What is the best dentist in Turkey for crowns?
As mentioned before prosthodontists are dentists specializing in the dental crowns
Here at Mavidenta dental clinic, you can always find the best prosthodontists in Turkey 
They will always be happy to keep in touch with you even after you travel back to your country
Conclusion:
 Dental crowns are an effective way to restore and improve your smile by restoring damaged or damaged teeth. Mavidenta provides first-rate dental services and a variety of crown options at reasonable prices. When selecting a dentist to treat your crown, it is critical to consider their qualifications, experience, and reputation, all of which we offer at our clinic. You can have a healthy, beautiful smile in no time if you choose the right dentist. Don't put off getting a healthy smile; you deserve it. Please contact us right away.
FAQ
Why You Should Get a Dental Procedure in Turkey?
You should get your dental crown in Turkey because of the affordability, high quality, and existence of the latest technologies there.
How do I choose the best dentist in Turkey for crowns?
You can choose your dentist in Turkey easily, as Mavidenta Dental Center can offer you the best dental team in the country.
How long do Turkey dental crowns last?
You may need to stay for about a week, as it requires about two visits to get it done.
How much does a crown cost in Turkey?
The cost of the crowns in Turkey varies according to the type, but it's cheaper than in any other country in Europe.
What type of dental crown is the best?
The best type of dental crown depends on the individual's specific needs and preferences. Porcelain and ceramic crowns are popular for their natural appearance, while zirconia crowns are strong and durable. Your dentist will help you choose the best option for you.